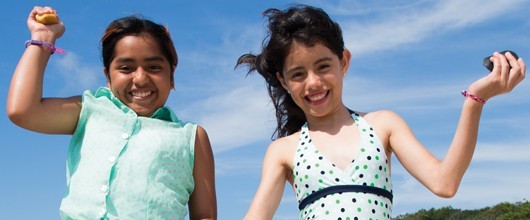 Summer Camp Programs
Summer Camp is one of our favorite Girl Scout tradtions, and we can't wait to reconnect with our G.I.R.L.s at  South Miami Little House this year!  Join us for 1 or more weeks as we venture into Camp Adventures together this summer.  Girls must be registered Girl Scouts. Join or Renew today!

Check out this year's Girl Scout Summer Camp themes at South Miami Little House:
 
For girls entering grades K to 12
Weekly fee:  $200 (Thursday Extended Stay – additional $20)
Day Camp program runs from 9 am to 4 pm. Girls may be dropped off at camp as early as 7:30 am and picked up as late as 5:30pm.
Extended Day option On Thursdays, girls can choose to stay later into the evening for dinner and a campfire (8 pm pick up). This is an optional add-on.  
June 14- 18,  2021 |  Hiking the HAPPY Trails of C.L.H. 
Cloudy with a chance of hiking you say , put on your goggles, lab coats, and hiking shoes for this week as we explore the science of clouds and rainbows, cooking and composting, and create our own Mr. & Mrs. Potato Heads as we enjoy the trails of CLH. The Mystery Microscope will add an interesting twist to how we see. 
Thursday Extended Stay (Dinner, Campfire & Skits – additional fee)
Badges: Daisy - Outdoor Art Maker; Brownie - Outdoor Art Creator; Junior - Outdoor Art Explorer; Cadette - Outdoor Art Apprentice; Senior - Outdoor Art Expert; Ambassador - Outdoor Art Master
June 21-25, 2021 |  Girl Scouting Through the Decade 

Come along and step through the magic CLH doors  as we experience Girl Scouting and more  through the years. . If you listen closely you may even hear some Ragtime music on Wacky Wed. See that the fashion was just a hint of what was to come. From the Titanic to the first woman detective in the U.S. to the founding of Girl Scouts it was a time of change locally and globally. 
Thursday Extended Stay (Dinner, Campfire & Skits – additional fee)
Badges: CLH Own Patch 
June 28-July 2, 2021 |  Hooray for the RED, White and Brave Woman of Yesteryear 

We know the stories of Benjamin Franklin, Thomas Jefferson, and George Washington. We even know of the imagination and sewing skills of Betsy Ross but what about others that helped win a nation? This 4th of July week we shall explore the unsung or rarely mentioned heroes and heroines of the Revolution that changed the world. 
Thursday Extended Stay (Dinner, Campfire & Skits – additional fee)
Badges: Daisy - Courageous and Strong; Brownie – Celebrating Community; Junior – Independence; Cadette – Finding Common Ground; Senior – Behind the Ballot; Ambassador – Public Policy 
July 5-9 , 2021 | The Color Wheel
Painting, drawing, sculpting, flight, anatomy, and science abound as we explore the great Renaissance master Leonardo da Vinci who apprenticed under Andrea Verrocchio. Join us as we look to the heavens for flight, to the waters for flotation, and explode in color---all with an artistic eye.  
Thursday Extended Stay (Dinner, Campfire & Skits – additional fee)
Badges:  All Age Levels, Moonlight Patch 
July 12-16, 2021 | Japan, an Olympic Land 
The Summer Games of 1964 were the first to be staged in Asia and, as in 2021, Tokyo was the host city. In the concept of reduce, reuse, recycle the 2021 games will be using some of the original sites – updated of course to today's needs. Japan is also a land of volcanoes, tsunami's, and earthquakes. Together we shall make the CLH field shake with races as we learn what makes the Earth's crust shake and change as land is created or consumed. 
Thursday Extended Stay (Dinner, Campfire & Skits – additional fee)
Badges: Daisy – Lupe, Honest and Fair; Brownies – Fair Play; Juniors – Practice with Purpose; Cadettes – Good Sportsmanship; Seniors - Cross-Training;  Ambassadors – Coaching
July 19-23, 2021 | Scuba Skills Not Required 
Many people have heard of the Great Barrier, Maldives, or our own Great Florida reefs. But what about Red Sea, Rainbow, or Tubbataha Coral Reefs? This is an underwater trip around the globe to discover some unique marine ecosystems and what we can do now to help them be and stay healthy. 
Thursday Extended Stay (Dinner, Campfire & Skits – additional fee)
Badges: Daisy – CLH Own, Under the Sea; Brownie – Pets; Junior – Animal Habitats; Cadette - Animal Helpers; Senior - Voice for Animals; Ambassador – CLH Own, Reefs
July 26-28 | Granny/Abuela and Me Camp | For girls entering Grades K – 5
This is a camp for Grandmothers and their granddaughters! We'll take a step back in time and make our way through the 5-Worlds of Girl Scouting: Outdoors, Arts, Well-being, People, Today and Tomorrow. Yes, Girl Scouts have been doing STEM (World of Today and Tomorrow) long before it was a popular acronym!
We'll end the week with a traditional campfire & s'mores. (time will vary on last day).
Fee:  $100
COVID SAFETY MEASURES

The health of our campers and staff is the utmost importance to us. Our COVID safety measures include reduced capacity, mandatory masks, pre-screening, hand washing/sanitizing stations, and physical distancing.
SUMMER CAMP PAYMENT POLICY
All camp fees, including overnight fees, must be paid in full 2 weeks before the start of the week of attendance. If the balance of the camp fee is not received by the due date the reservation and deposit will be forfeited and a replacement will be made from the waiting list. Balance due payments must be received at least 2 weeks before the start of the week of attendance. Registrations will not be accepted for any week less that 2 weeks before the start of that week.
SUMMER CAMP REFUND/CANCELLATION POLICY
Cancellations will be accepted in writing by e-mail only and honored only if made before the registration deadline. All weekly deposits and overnights fees are NON-REFUNDABLE and NON-TRANSFERABLE except with a valid doctor's note or if the camper is on a waiting list and cannot be placed in camp. Under no circumstances will overnights be refunded as camp supplies, food, etc. have been purchased based on anticipated camper attendance for the week.
SUMMER CAMP WAITING LIST
Girls who register for weeks that are filled will be placed on a waiting list. If space becomes available, girls will be placed in the order in which registrations were received. Parents must respond within two days of the notice of waiting list placement. Deposits will be refunded if a girl is not placed from the waiting list.
SUMMER CAMP WALK-INS
Registration will be closed for all camp sessions 2 weeks in advance of each session. Walk in registrations will not be accepted.