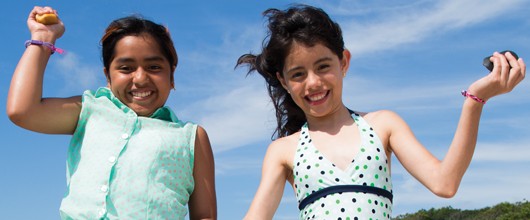 Summer Camp Programs
Summer camp is more than a tradition in Girl Scouting. It is a special time when girls create fond memories and develop life-long skills and traditions. In a safe, all-girl setting girls have the opportunity to gain confidence, to spread their wings and develop a sense of independence, to learn how to work as a team, and to discover how to take action to make a difference in their world.
2017 Girl Scout Summer Adventure - Camp Life is the Best Life
Download to See Summer Camp Offerings
WHO: For girls between ages 5-17
WHEN:  June 19 to August 11, 2017             
WHERE:
TIME:
Early Bird: 7:30am to 9:00am
Programs: 9:00am to 4:00pm
After Camp: 4:00pm to 5:45pm
Girls benefit immensely from their time outdoors at camp: they experience personal growth and empowerment, try new things, overcome fears, and learn teamwork and leadership skills. The open space of the outdoors, combined with the calming effects of nature and the opportunities for new experiences and growth, constitute an ideal setting in which girls can explore, observe, learn, and give back to their peers and their communities. The inherent novelty and challenge of many outdoor camp activities also appeals to girls and can help them develop mastery, agency, and personal identity.
Whether they go for the day, overnight, or longer, Girl Scout camps provide girls an opportunity to grow, explore, and have fun under the guidance of caring, trained adults.