BFF (Be a Friend First)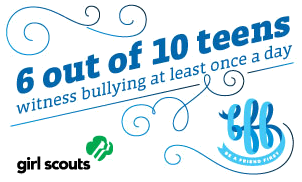 Girls' relationships with their peers are critical components of their well-being and ability to succeed in school…and throughout life. While boys tend to use physical aggression when they bully, girls are more likely to engage in relationally aggressive behavior. This means that they bully by manipulating their relationships: teasing, forming cliques, excluding others, and using social media in negative ways, such as spreading rumors. Research shows that the highest rates of bullying occur during middle school years.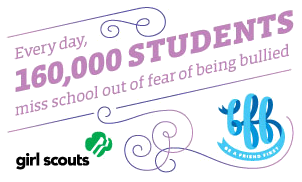 BFF stands for "Be a Friend First," a title selected by girls. BFF was created for middle school girls to help them develop healthy relationship skills, understand relational aggression, and learn about conflict resolution and bullying prevention. Girls begin BFF by understanding how to develop healthy friendships. They then learn to deal with relational aggression and bullying in their own relationships. Finally, they lead with
friendship in their schools and communities by taking action to prevent bully behavior.
Contact
Lori Ross, Director of Programs
lross@girlscoutsfl.org
305-253-4841 x 223
Program Supported By: