Cookies
Digital Cookies!
The Girl Scout Cookie sale has gone DIGITAL!  With the Digital Order Card (DOC), girls can increase their door to door and booth sales with their very own Online Cookie Store!
Digital Cookie will allow current Girl Scouts to:
*Personalize their Online Cookie Store
*Earn Badges & Set Goals
*Manage Customers
*Send Marketing emails to family and Friends *Customers can order cookies to be shipped directly anywhere in the US!
Yes, that means family members who reside out of South Florida can support your Girl Scouts! With Digital Cookie, Girl Scouts can increase their cookie sales by about 30+ boxes on average.
Digital Cookie will only be available to Girl Scouts with a current and active GSUSA iD number. Therefore, it is imperative for girls to register EARLY!
Paper membership turned into the office usually takes about 30-60 days to process depending on the time of year. FYI: paper membership turned it at the Rally, takes longer to process.
Troop cookie managers will need to enter the GSUSA ID number for girls in ebudde after council migration (about Nov. 10th.)
Therefore, it is advisable to have parents register girls online, especially if registering after Sept. 1st. Parents will then need to provide troop cookie manager with their daughter's girl GSUSA id number.
Girls will be exposed and able to develop to more tech skills, but also able to earn the featured badge by completing the requirements online!
Digital, It's Coming! Now we just need to be ready!
Every Cookie has a mission and that is to help girls DO GREAT THINGS! Since the 1920s, Girl Scouts have sold cookies as a way to raise money for troop activities and service projects. Today, with nearly $800 million in annual revenues, the Girl Scout Cookie Program is the largest girl-led business in the country.
2014-15 Cookie Reward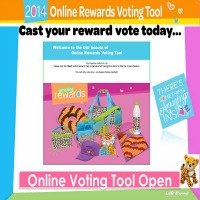 Congratulations to our Top Cookie Sellers!
Roslyn Hyette | Ashley Eick | Danielle Davis | Tatyana Hribar | Marina Doyle
Sara Gonzales | Jessica Koval | Ansley Gregis | Chloe Koval
Angelica Escudero | Yvelyse Fuster-Diaz | Kayla Stapleton | Amanda Lara
Alexandra Naranjo | Rachel Rojas | Jayda Amador | Madison Smith
Megan Cooper | Alexa Kanderski | Maia Taveras | Jaquiline Calzadilla
Amelia McKay | Samantha Simpson | Catherine Tohulka | Isabella Murrillo
Ashley Thompson | Katerina Marina Miville | Charmaine Sanford
Keyana Vernon | Timaya Everett | Raydijah Walters
Cookie Crumbs
8 Delicious Flavors!
Cookies available locally from mid-January to mid-February.


Girl Resources
Find Cookies Nearest You
Girl Scout Cookie Dates
November 1-20: Troop Cookie VIP Online Training

November 20-December 10: Cookie pre-ordering begins!

December 11: Cookie pre-ordering ends

December 12: Digital Cookie Opens: Cookies for the Holidays!

January 10: Keys cookie pre-orders delivered

January 12-14: Dade cookie pre-orders delivered

January 15: Cookie Sale Begins!

February 13: Cookie Sale Ends!

February 14-16: Last Chance Cookie Booth Weekend

February 20: Girl cookie balances due to troop

February 21: Troop Final Paperwork due to Service Unit

November 15: Cookie College 101

November 15: Cookie College 101

November 15: Digital Cookie Website Creation Open
Setting Cookie Goals
Follow these 5 easy steps
Set & Share Troop Goals

It's a proven fact that goal-setting goes hand in hand with higher sales. Girls work as a team to develop their troop goals.

Set Personal Goals

Girl should set and write down their own personal goals, whether it is a selling goal or a personal development goal on their order card and share with customers.

Family Meeting

Girls should organize a family meeting to inform family members of their troop and personal goals. Girls who have parental support are more inclined to reach their goals.

Connect with Others

Sell beyond family & friends, conduct a cookie booth or two, visit your parent's workplace, or set up a display at place of worship or ask to be a guest speaker at a civic organization.

Monitor Progress

Check your progress and your troop's progress; hold a troop progress meeting and re-evaluate goals and selling strategies if necessary.