Cookies & More
Everything girls do in Girl Scouting is designed to help them grow into leaders of Courage, Confidence, and Character. The Girl Scout Council of Tropical Florida offers two product sale programs each year. The Girl Scout Cookie Program and Fall Product Activity Sale are innovative, fun, girl-led programs that engage girls' curiosity, teach life skills, including entrepreneurship, team work, and goal setting, all while directly contributing to the success of each girl's personal Girl Scout experience.
Check out these Amazing Girl Scouts on these Amazing Cookie Videos!
21St Century Skills: Amazing Super Seller Katie Francis
The 5 Skills - shaping your girl's future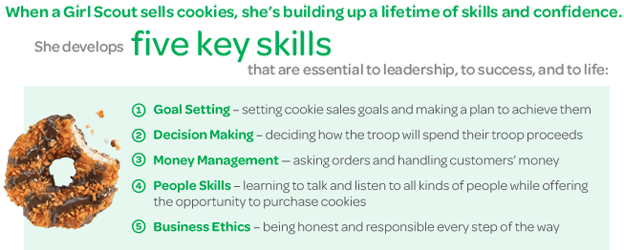 Why do they matter?
Because when your Girl Scout has learned these skills, she'll be poised for success in her career. Think about it, when employers interview job candidates, they all look for similar qualities. Employers want:
1. Someone who can set goals and meet deadlines.
2. Someone who works well with others.
3. Someone who understands customers.
4. Someone who can influence others.
5. Someone who is honest, trustworthy and reliable.
Sound like anyone you know? That's your Girl Scout, using the 5 skills she learned participating in the Cookie and Fall Product Activity Sale Programs!
Fall Product Sale Program takes place late September - mid October with QSP Magazines and Ashdon Farms Nut products.
Girl Scout Cookie Program begins with initial orders in late November and the girls conducting direct sales in January -  mid February.
Contact
Eva Prada, Director of Product Sales
eprada@girlscoutsfl.org
305-253-4841 x 236