Membership Details
All she needs is a little spark to realize it all.That's where we come in.
At Girl Scouts, she'll laugh, she'll explore, and she'll make strides—all with friends by her side. A momentwhen she tries something new can be the moment shediscovers something amazing about herself that willcarry her towards future success—one that's all herown to share with the world.
Whether she's 5 or 17, we can help her grow brighterand brighter—from day to day, month to year—together.
We've been helping girls shine for over 100 years. Enroll yours today!
2014-15 – Annual enrollment per Girl is $30.00 (GS year: Oct 1- September 30) 
Members pay an annual membership fee ($15) that goes directly to Girl Scouts of the USA. None of that annual membership fee stays locally within our council. The additional $15 Council Service Fee (CSF) supports the operation of our local Girl Scout council the same way the $15 national membership fee supports the operation of GSUSA.
Girl Scout volunteer delegates from across the country overwhelming approved the Council Service Fee at the 52nd GSUSA National Council Session in November 2011. The delegates recognized the financial realities of operating a Girl Scout Council in today's economy and felt strongly that adding the CSF was necessary given the substantial value of the Girl Scout Leadership Experience.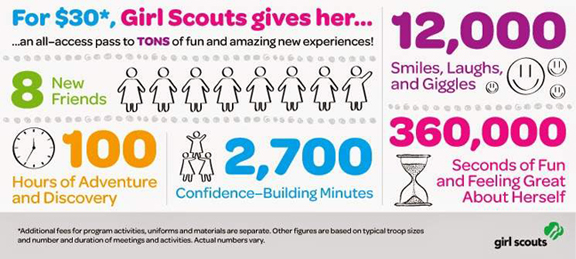 Girl Scout Levels