Membership Details
All she needs is a little spark to realize it all.That's where we come in.
At Girl Scouts, she'll laugh, she'll explore, and she'll make strides—all with friends by her side. A momentwhen she tries something new can be the moment shediscovers something amazing about herself that willcarry her towards future success—one that's all herown to share with the world.
Whether she's 5 or 17, we can help her grow brighterand brighter—from day to day, month to year—together.
We've been helping girls shine for over 100 years. Enroll yours today!
Members pay an annual membership fee ($15) that goes directly to Girl Scouts of the USA. None of that annual membership fee stays locally within our council. The additional $15 Council Service Fee (CSF) supports the operation of our local Girl Scout council the same way the $15 national membership fee supports the operation of GSUSA.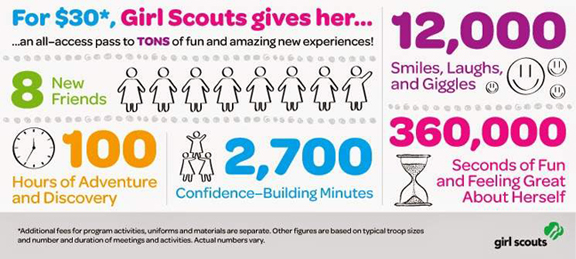 Girl Scout Levels