The Gold Award
Congratulations 2015 Gold Award Recipients!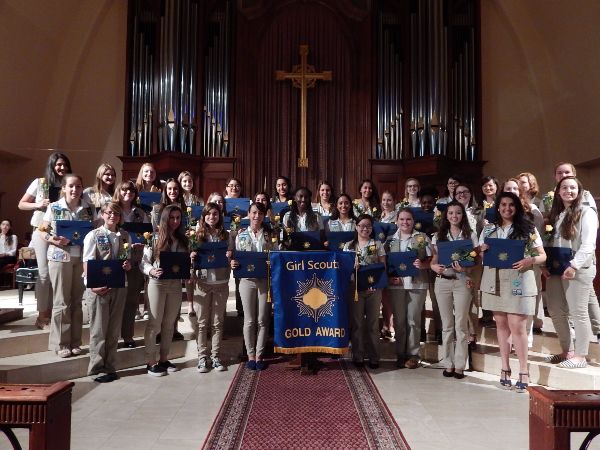 Congratulations to our 2015 Gold Awardees. 
The Gold Award is the highest and most prestigious award that Girl Scout Seniors and Ambassadors can earn.  A project must involve a minimum of 80 hours and include the following steps: identifying an issue, investigating it thoroughly, getting help and building a team, creating a plan, presenting the plan, gathering feedback, taking action, and educating and inspiring others.  It is more than just a good service project – it encompasses organizational, leadership, and networking skills. The following are the projects of the girls who most recently have earned the Girl Scout Gold Award.
Delaney Ager
Sarah Arbella
Madison Artzt
Natalie Baez
Adriana Betancourt
Alexandra Betancourt
Gabrielle Bogert
Brittany Budd
Kayla Buttafouco
Hailey Cannon
Megan Cooper
Stephanie Diaz
Lauren Field
Cassandra Frankenfield
Alexia Gallian
Leigh Kerdyk
Bianca Larsh
Kristen Leong
Rachel Leong
Christina Loisel
Jenesis Mena
Samantha Morales
Monica Moscoso
Emily Pendas
Brianna Prindle
Gabriela Ramesar
Christina Richards
Julia Rothfield
Christine Sanchez
Juvetzy Santana
Valeria Sonderegger
Ju'Nyia Stevens
Isabelle Stieglitz
Julia Tesmond
Amari Thompson
Bianca Torres
Sarah Tennent
The Girl Scout Gold Award represents the highest achievement in Girl Scouting. This prestigious award is earned by high school girls who complete extraordinary leadership projects that change our community, and sometimes even the world, for the better.
Going Gold is now paperless!
Just click the link below to get started with your registration!

7 Steps to Make a Difference in the World
Identify an issue

Choose an issue that is important to you.

Investigate it thoroughly

Learn all you can about this issue.

Get help and build your team

Assemble a team to assist with your efforts and help you Take Action!

Create a plan

Determine the fundamental cause of the issue and the steps to solve it.

Present your plan and gather feedback

Submit your Project Proposal Form to the Girl Scout Council of Tropical Florida for approval.

Take action

Lead your team and execute your plan.

Educate and inspire

Tell your story and share your results.
Gold Award Benefits
Higher education and career

Distinguish yourself in the college admissions process.
Earn college scholarships.
Enter the military one rank higher.

Life skills

Be seen as a role model and distinguished leader.
Master time management skills.
Make the world a better place.

Community

Use your vision for change.
Tackle an issue, locally or globally.
Establish a lifetime network.
Create your community legacy by creating a sustainable solution to a problem.
Training Dates