What Girls Can Do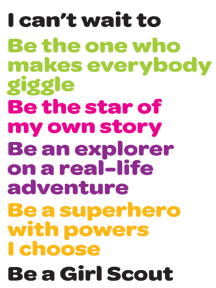 Are you ready for an adventure of a lifetime? Are you a girl between the age of 5 and 17? No matter what you like to do, build robots, travel the world, help others, dance, take charge, or simply hang with friends, you can find Girl Scout programs and activities to suit your interests.
As the largest organization for girls in the world, Girl Scouts is the leading authority and advocate for girls. For over 100 years, Girl Scouts has helped girls develop the skills they need to meet the challenges of a constantly changing world.

A Girl Can Be a Girl Scout in Many Ways
Register individually and participate in council-wide activities.

Attend Girl Scout Camp during Spring and/or Summer break.

Join a short-term interest group on careers, engineering, sports, theater, or money management, just to name a few!

Join a Troop with a group of girls and a couple of adults in your area.

Go on a chaperoned trip that empowers girls to explore their state, nation, and world.