Volunteer
You're going to love being a Girl Scout Hero!
It starts with a girl. Each girl has a story that's waiting to be written.
And in every story there is a hero. Be the hero who believes in each girl's ability to change the world. Girls who want to grow up and make a difference need special heroes. Use your superpowers to unleash a girl's wide-eyed enthusiasm to make things better. Our girls need you to wear the cape in their stories.
Invest in girls. Change the world. Become a volunteer today.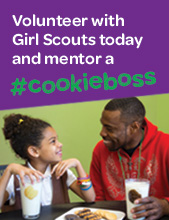 Ways to Volunteer
Troop Leaders
Mentors
Guest Speakers
Fundraisers
Community Outreach
Interns
Administrative Assistants
Here's how to get started: Forms
As a Girl Scout volunteer you will have support from staff and a network of volunteers in your area. To get connected, contact Maria Santos at msantos@girlscoutsfl.org.