Alumnae
Once a Girl Scout, Always a Girl Scout
Whatever your Girl Scout role may have been - Daisy, Brownie, Junior, Cadette, Senior, Ambassador, Mariner, troop leader, camp volunteer, staff member, or dozens of others - you're part of a 59-million-strong network of Girl Scout alumnae.
Each of us has a success story to tell and memories to share. And all of us are looking to reconnect with old friends, while finding a way to support this generation of girls.
So...take a moment to reconnect by joining.
Subscribe to our email list to receive information on council news and alumnae socials.
Consider volunteering your time and talent.
We are so glad you are back!
Girl Scouting Works:The Alumnae Impact Study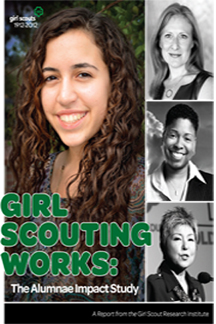 Girl Scouting Works: The Alumnae Impact Study is a national research report investigating the effects of Girl Scouting on its alumnae population of women. The study was designed to explore questions such as:
Does Girl Scout participation result in positive life outcomes?
What are the benefits of the Girl Scout experience?
Does participation benefit certain demographic groups more than others?