1912 Society
Girl Scouts "builds girls of courage, confidence, and character, who make the world a better place" and has served local girls since 1923. Today, Girl Scouts of Tropical Florida is proud to serve over 10,000 girls in Miami-Dade and Monroe Counties. We have a long history of helping girls grow into strong women with great leadership skills, strong morals, and much more. To carry out our mission of helping girls, we rely on donors.
Girls take part in summer and day camps as well as year-round camp activities. Each campsite offers adventures for Girl Scouts of all ages and girls are certain to create memories that will last a lifetime. In order to sustain the infrastructure of our campsite and facilities and to make sure they are around for the next century of Girl Scouts in our community we are have created the 1912 Society. With a donation or pledge you will receive a beautiful custom made for our Council bracelet in Gold, Silver or Bronze.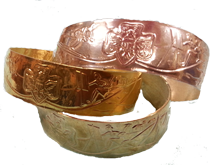 Bronze Bracelet - $250

$160 of your donation is tax deductable

Silver Bracelet - $500

$330 of your donation is tax deductible

Gold Bracelet - $750

$560 of your donation is tax deductible
Your contribution directly affects the Girls in our community by giving them opportunities to discover their unique leadership skills, connect with others and take action to make the world a better place. Girl Scout programs encourage girls to explore science, technology, engineering and math, learn to love fitness and health or gain a love of nature that grows into a lifelong commitment to the environment. And they make wonderful gifts for any Girl Scout!